The 2nd Infantry Division Is Recruiting - Become A "Warrior" Today!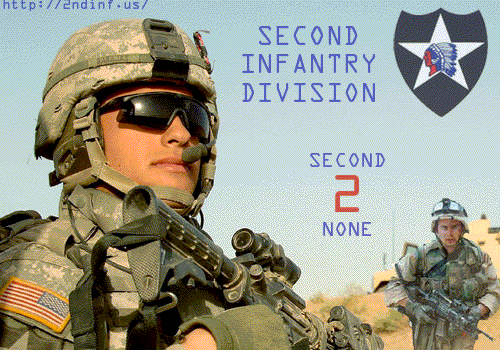 Are you interested in joining a realism unit that allows you to form lasting friendships and meet new people from all around the world? Are you interested in playing with other players at both friendly and competitve levels? Would you like to be a member of a unit that emphasizes teamwork, honor and integrity who bond together to form not just a team or clan, but more importantly a brotherhood? If you answered yes to any or all of these questions, then the 2nd Infantry Division is the unit for you!
HERE IS WHAT WE OFFER:
- Our very own professional website and forums at
http://2ndinf.us/
- Public and private teamspeak servers at the unit's disposal
- We are in the process of purchasing AA and BF2 honor servers
- Participation in TWL Ladders and Leagues, and possibly other leagues as well
- A chain of command and realistic rank structure comparable to that of the actual U.S. Army
- Training for new recruits and scheduled team/squad practices
- MOS's or jobs for every individual within the unit
- A unit designed to branch out to other online games including Call of Duty 4
- A comfortable and enjoyable environment for both members and visitors
WHAT WE REQUIRE FROM YOU:
- Must be at least 15 years of age or older. However, if you're only 13 or 14 years old, you are eligble to join our JROTC program, so please submit an application if interested.
- Must have a fully functional AA or BF2 program
- Must have TeamSpeak2 or be willing to download it for free
- Must have a gaming microphone or be willing to purchase one
- Must have and actively use Xfire or be willing to download it for free
- Must be willing to operate in a team-based environment
- Must act mature and be active both in-game and on voice servers/site/forums/xfire
- But most importantly, must be willing to have as much fun as possible
If after reading all of what we have to offer players and if you meet our requirements and are possibly interested in joining the 2nd Infantry Division, please feel free to visit our site at
http://2ndinf.us/
and submit an application by clicking on our Enlistment Poster in the top right-hand corner of our site or through accessing our Enlistment Office forum.
My Xfire: fr33d0mfight3r
My MSN:
ryan_d_jackson@hotmail.com
If you are ready to make the commitment, enlist with us and become a Warrior today!